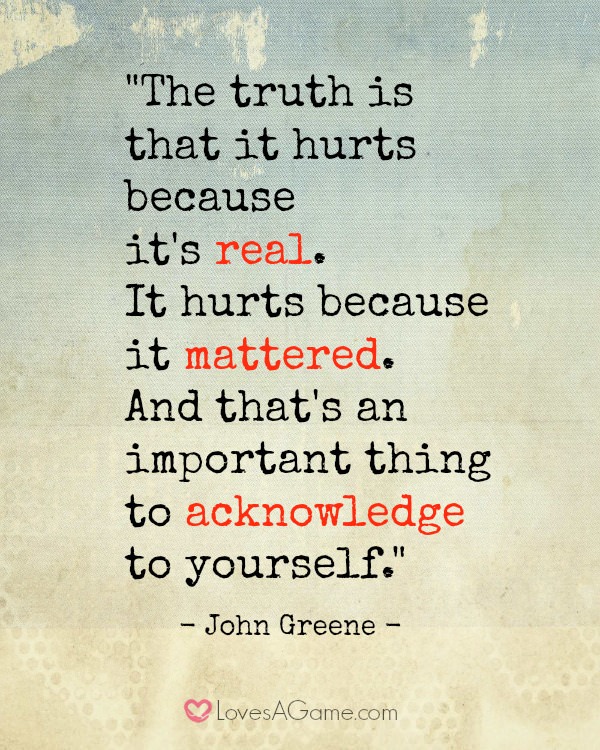 "The good times and the bad times both will pass. It will pass. It will get easier. But the fact that it will get easier does not mean that it doesn't hurt now. And when people try to minimize your pain they are doing you a disservice. And when you try to minimize your own pain you're doing yourself a disservice. Don't do that. The truth is that it hurts because it's real. It hurts because it mattered. And that's an important thing to acknowledge to yourself. But that doesn't mean that it won't end, that it won't get better. Because it will."
—John Green
This quote you've just read is one my most shared Pins on Pinterest I've ever uploaded. It was shared nearly 10.000 times.
Even though I accidentally misspelled "John Green".
Why do people love this quote so much?
Because it acknowledges the fact that a breakup hurts. It doesn't sugarcoat it, and it doesn't tell "pretend that nothing happened".
Because the pain is real.
And while it WILL be okay, we must accept the pain. Feel it and go through it.
The relationship we had was important to us. A huge part of our lives.
We loved, even though we knew that we put ourselves at risk, that we made ourselves vulnerable.
But it was okay.
We gained so much strength, and our daily life was full of happy moments.
We felt fulfilled.
Now that we lost it – and it doesn't feel right saying that we lost it, because it doesn't get lost – we feel this pain.
It's a constant reminder of what we need.
It hurts because it's real.
Accepting the pain comes even before acceptance of your breakup or divorce. It means that you have to go THROUGH the pain by consciously feeling it.
Don't ignore it, don't numb it.
FEEL it.
If you do that you will be ready for "acceptance" much sooner (which is a very important leap in your recovery).
Acceptance means that you finally acknowledge that the relationship is over.
That all the future plans you've had don't exist anymore.
That they won't come back.
I know how it hurts to read that.
But you need to … for your own good.
Because most people are stuck here.
No acceptance.
That's why many of us suffer for such an unnecessarily long time.
Don't be one of them, don't make this common mistake.
We in our little "DETOX" community are here to help you reach this so important stage.
We have for example one lesson that shows you why you might still be in denial and how to escape the "But-I-Still-Love-Them" Trap.
And we have the three most effective tools to accept finally that it's over and start to let go.
If you're not a member of the DETOX Course, you can find more information here:
Your coach and friend,
Eddie Corbano